Londres
Próxima corrida: 22 September 2022
One Team. Ten Runners. One Mile Each.
The Bloomberg Square Mile Relay, the one-of-a-kind, immersive team-building experience, will be returning to London on Thursday 26th September 2019, for the 13th running of the London edition as part of the 2019 global series that now takes place in 12 cities worldwide! This is not your ordinary running race – every participating company will need 10 employees to complete each team, all of whom will run the stunning one mile (1.6km) course in relay style, starting and finishing from the Race Village in Guildhall Yard.
Hundreds of London's biggest businesses have already taken part in the relay, and corporations will once again gear up to compete for the coveted relay trophy, but also to enjoy the fantastic team bonding and networking opportunities at the event.
THE AFTER-PARTY
The famous After-Party will see live music from a top DJ and first class hospitality for all runners including complimentary food (main meal and dessert) and drinks (five alcoholic or soft drinks) - spectators are also encouraged to join the fun and can buy additional hospitality packages online in advance once available. This really is an evening not to be missed!
YOUR LAP. YOUR CAUSE. YOUR DIFFERENCE
We are committed to making a difference beyond the finish line by contributing to a cause that's important in your city. Through The Extra Mile, you can choose which cause our partner charity will support, using the power of sport to address social challenges in your city. The faster you run, the better the chance your cause has of receiving the donation. The Extra Mile charity partner and causes will be revealed shortly.
Quem competiu?
1. Cheniere Marketing International
2. Monex Europe
3. BBVA
4. Atlantic Equities LLP
5. Goldman Sachs
6. Nikko Asset Management Co.,Ltd
7. J.P.Morgan
8. Astra Asset Management
9. Brooks Macdonald
10. Barclays
All Companies
Proudly sponsored by: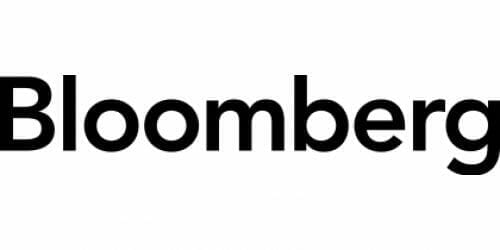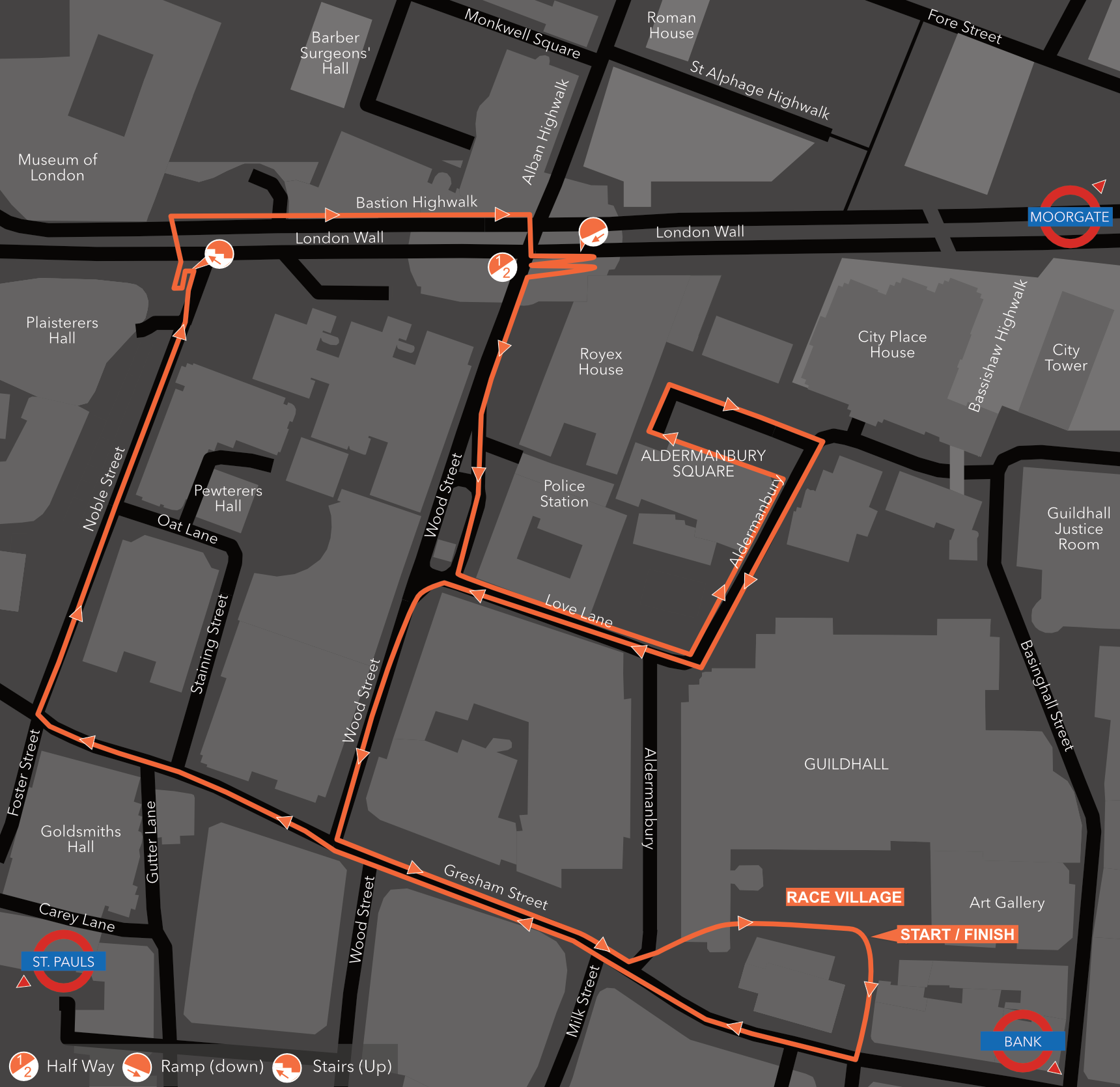 Set amidst London's infamous Square Mile runners challenge each other for position as they navigate tight turns, sharp bends, and flights of stairs on this unique one mile (1.6km) route, synonymous with the Bloomberg Square Mile Relay. The stunning skyline provides a dramatic backdrop to the race course that challenges returning runners on the start line, but also offers a unique, fun and exciting race for first-time participants. Check out the route that runners took for the 12th Bloomberg Square Mile Relay in London earlier this year.
LOCALIZAÇÃO DA RACE VILLAGE
Guildhall Yard
Gresham St
London
EC2V 7H
Mapa
17:45
Captains arrive to register and collect batons and race bibs
18:15
Team members arrive
18:45
Official Race Briefing
19:00
The Extra Mile presentation
19:15
Teams ready in race pens
21:00
Race starts. Hospitality opens
22:30
Awards Presentation & After-Party
Confira os destaques da corrida deste ano: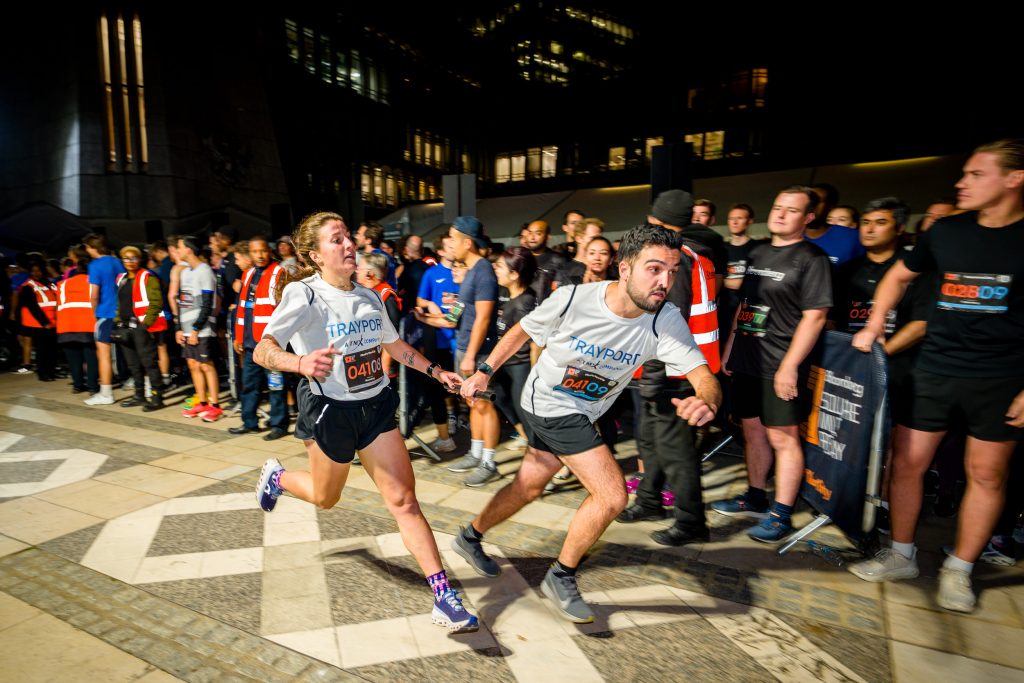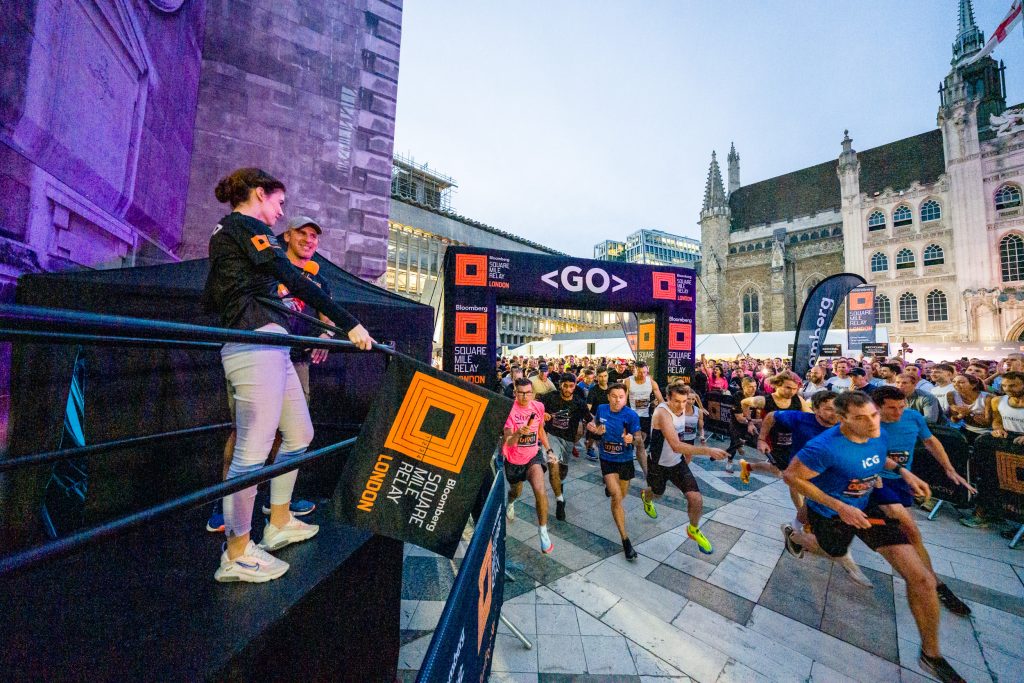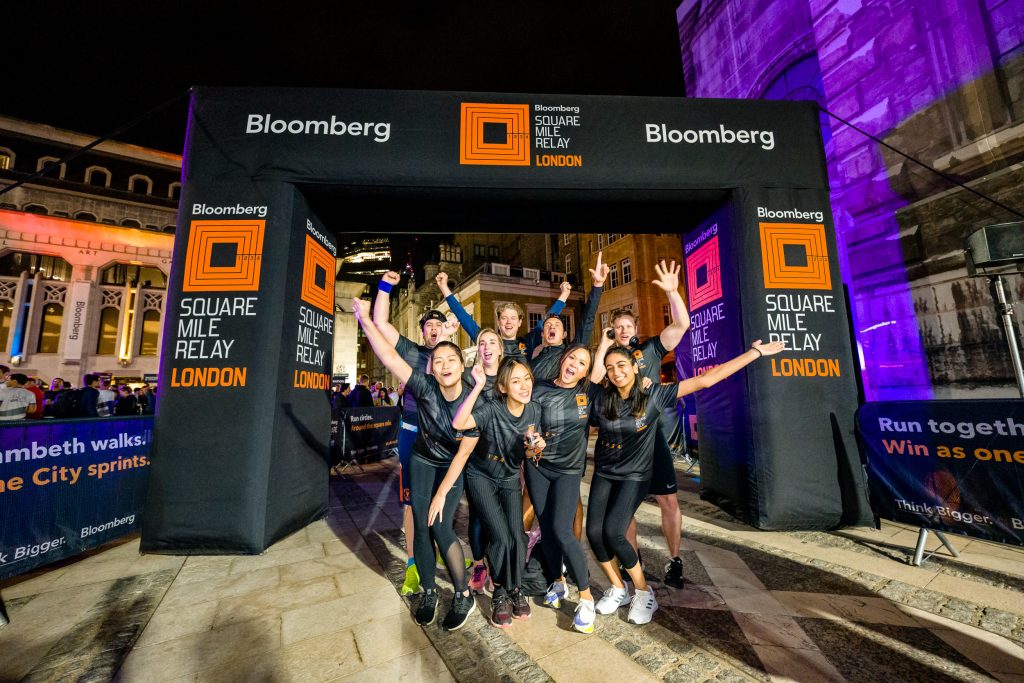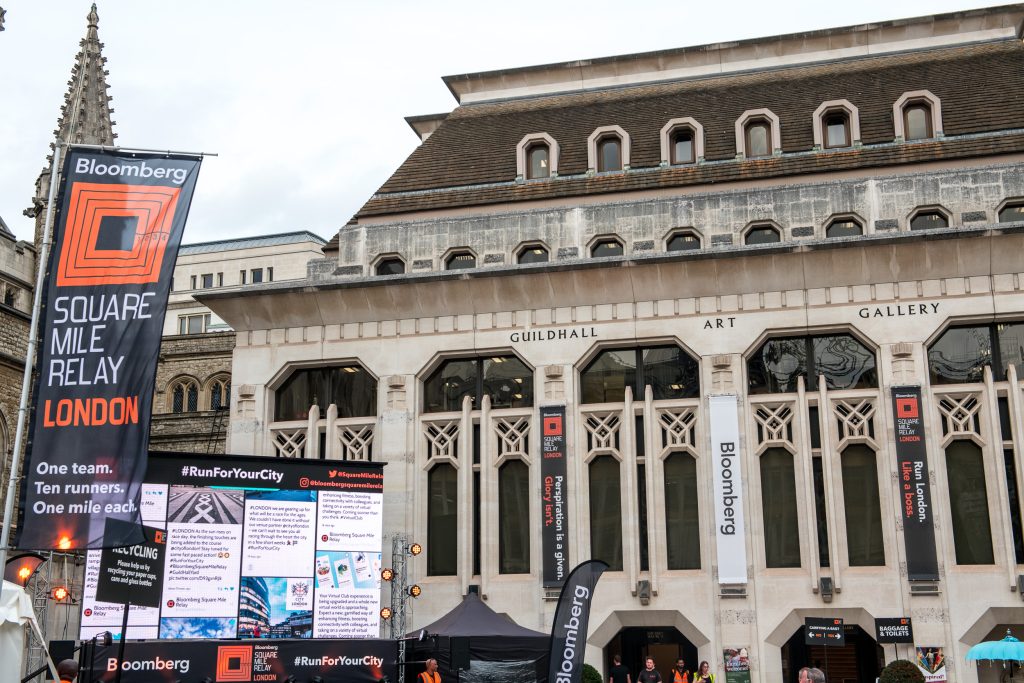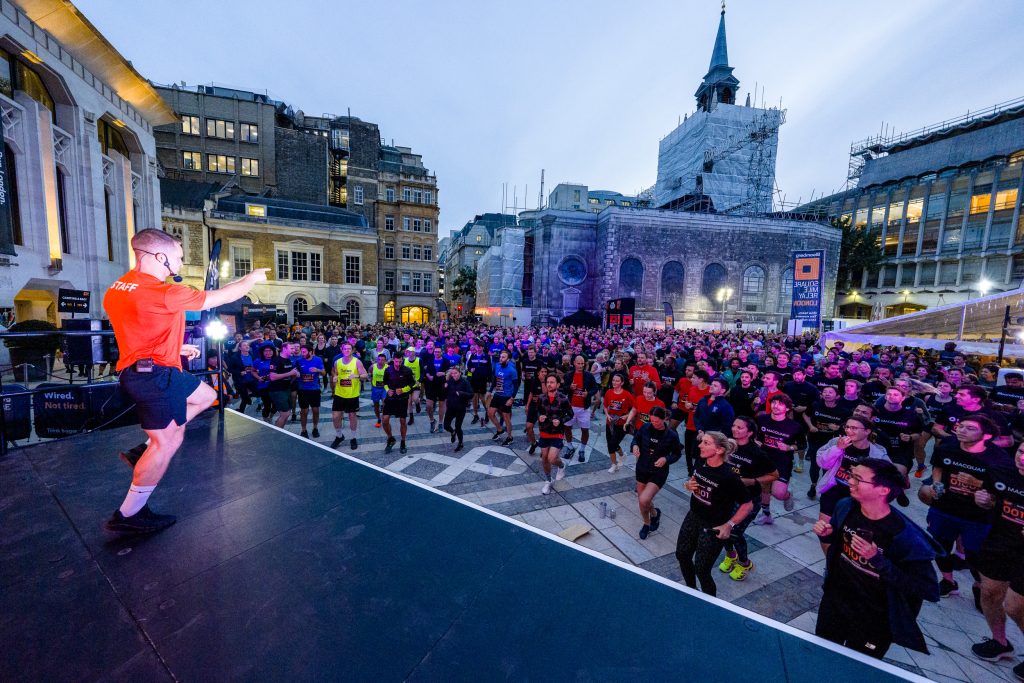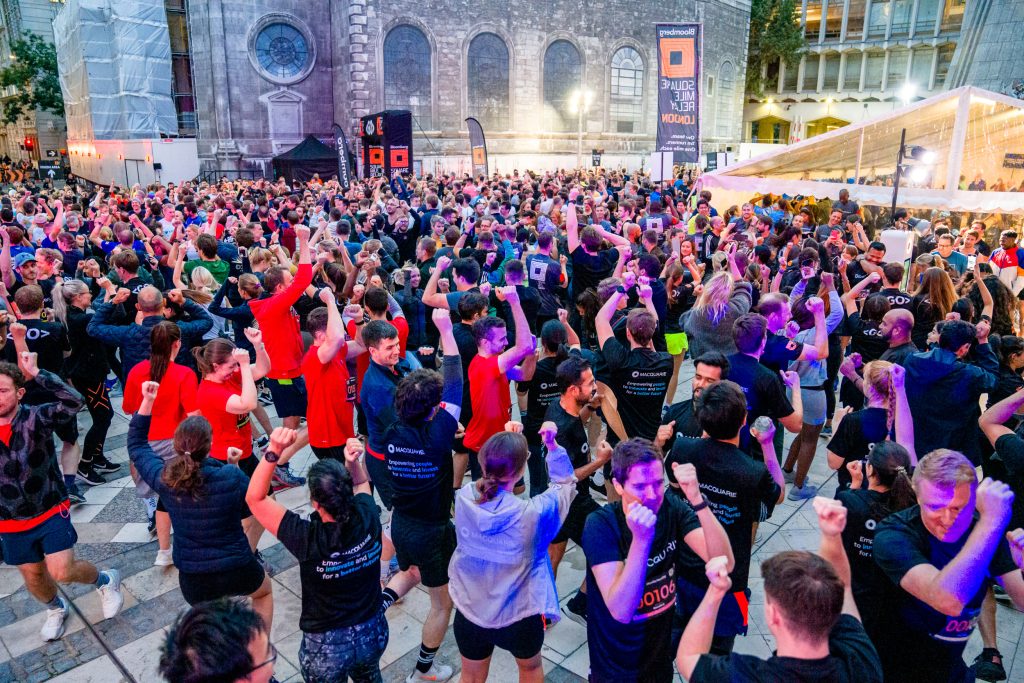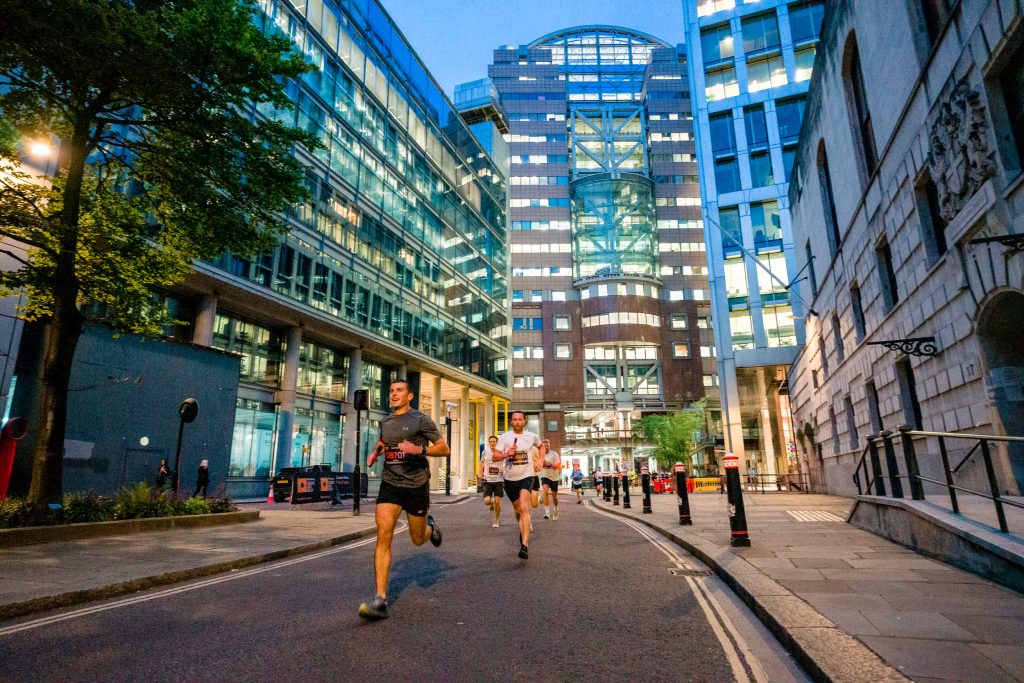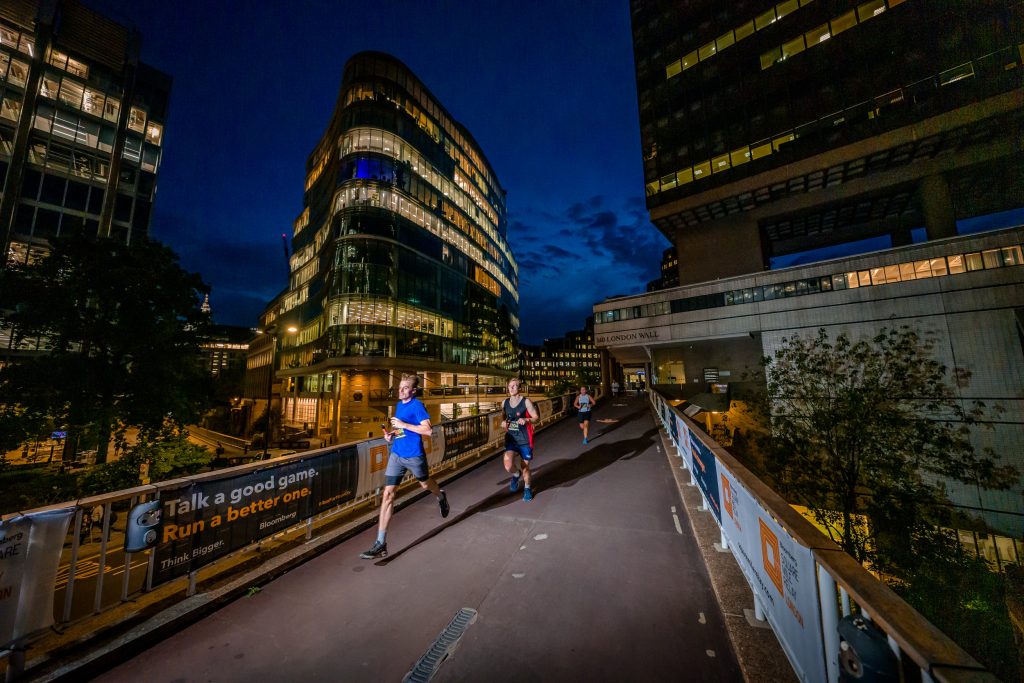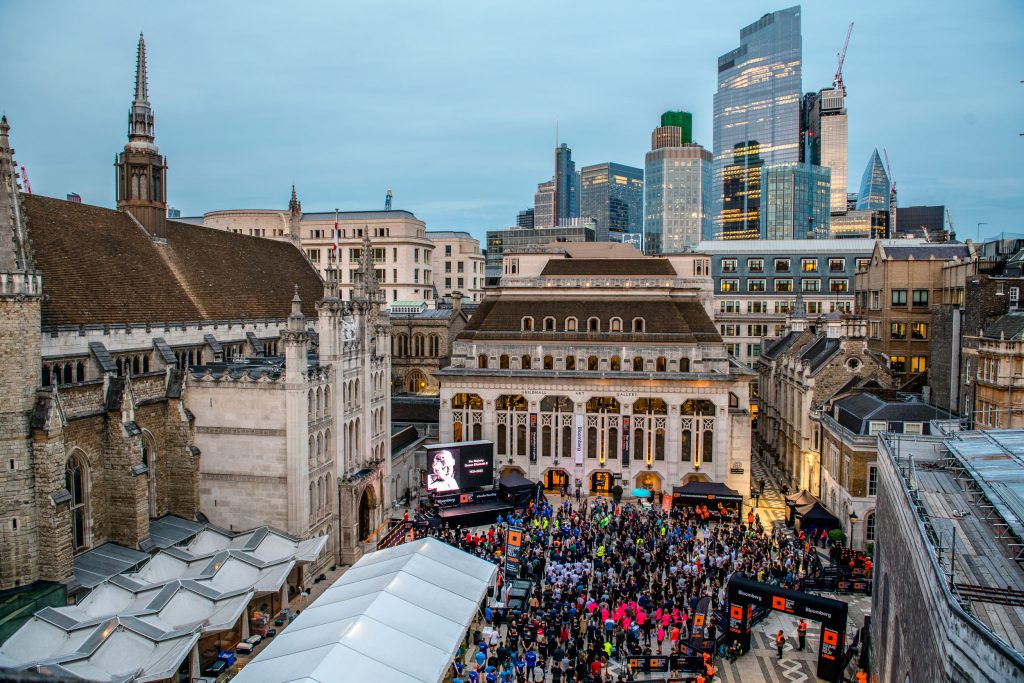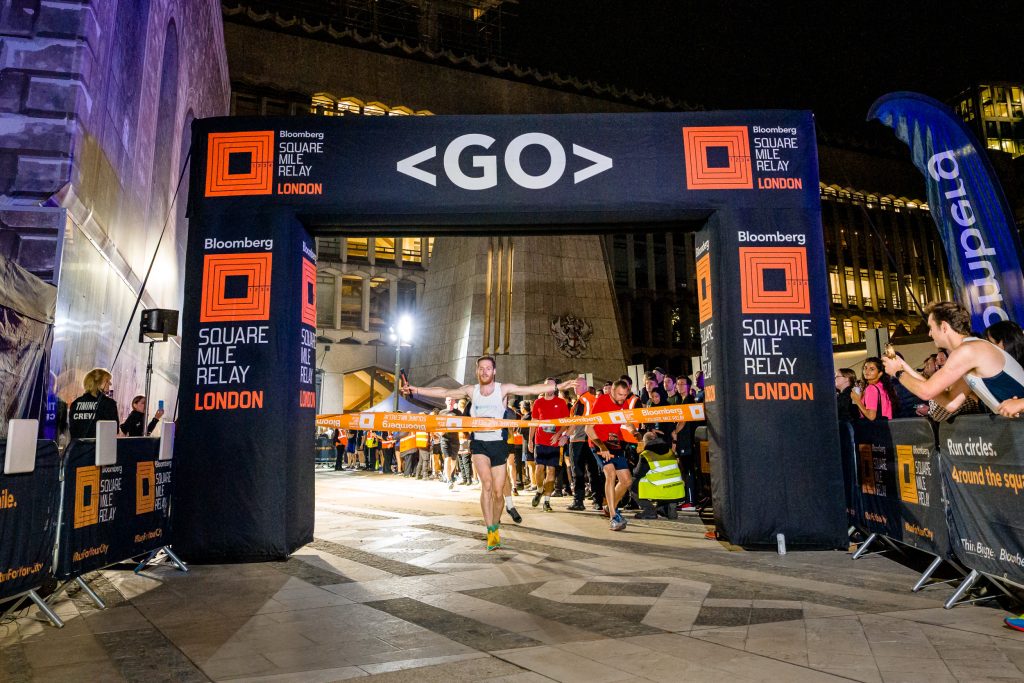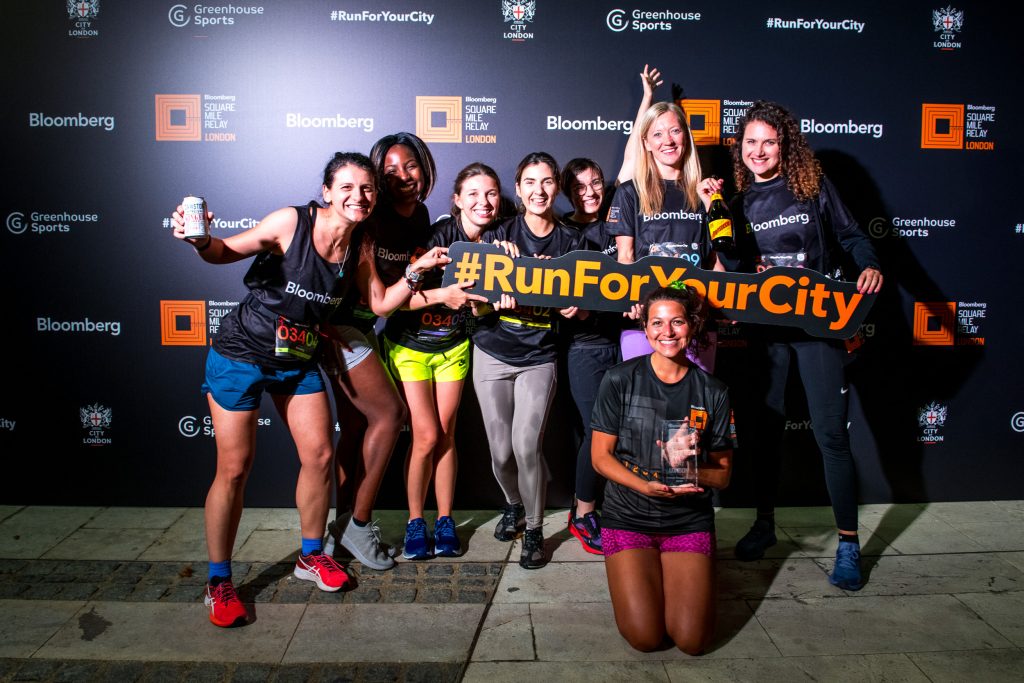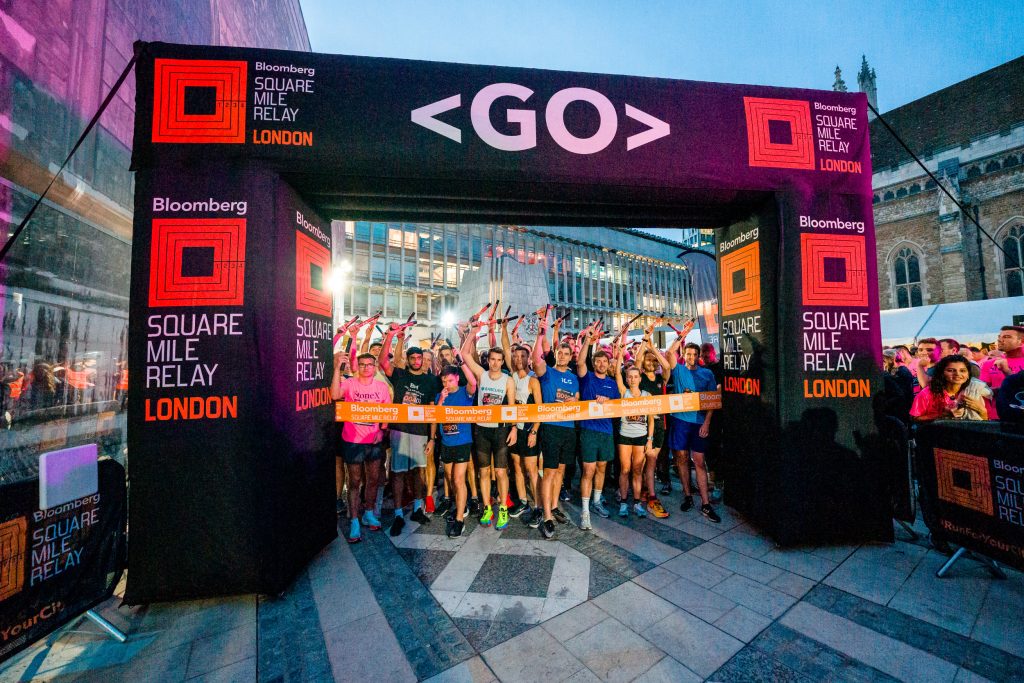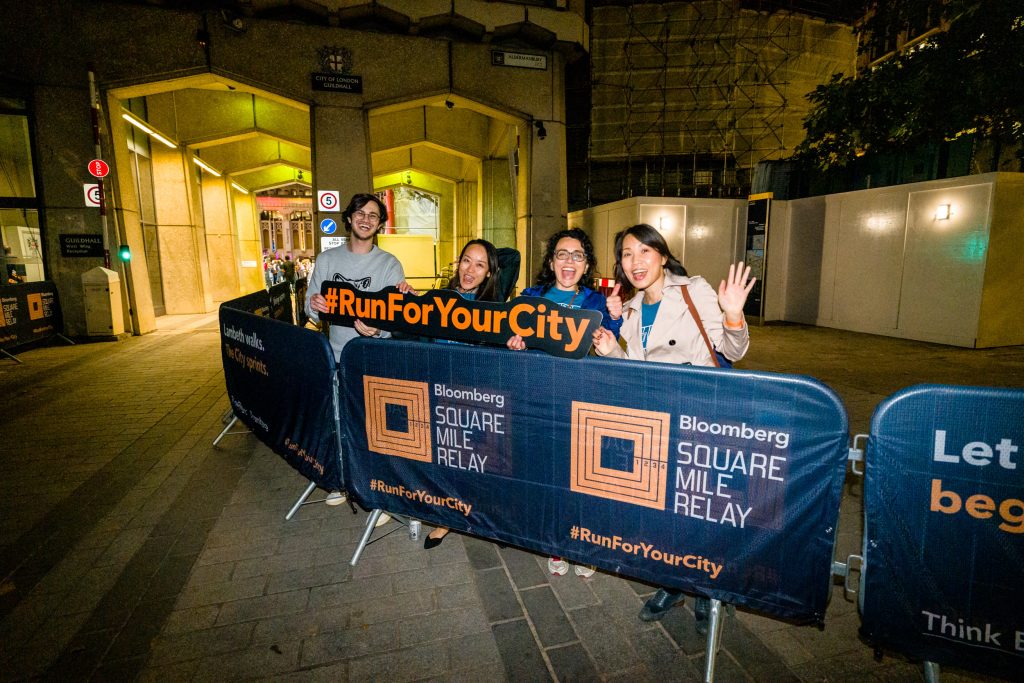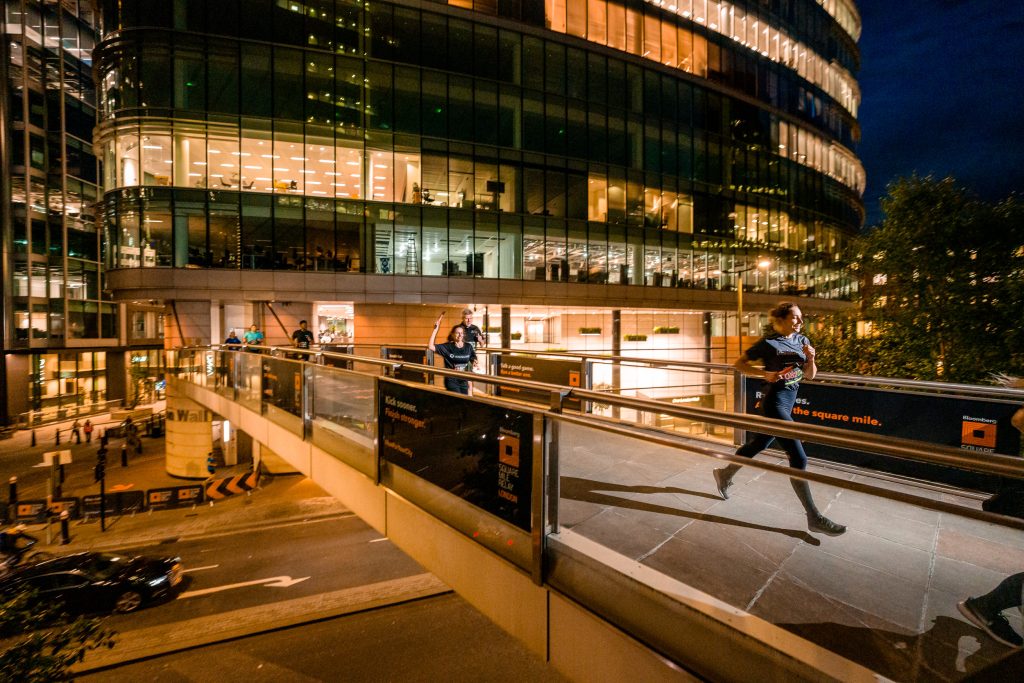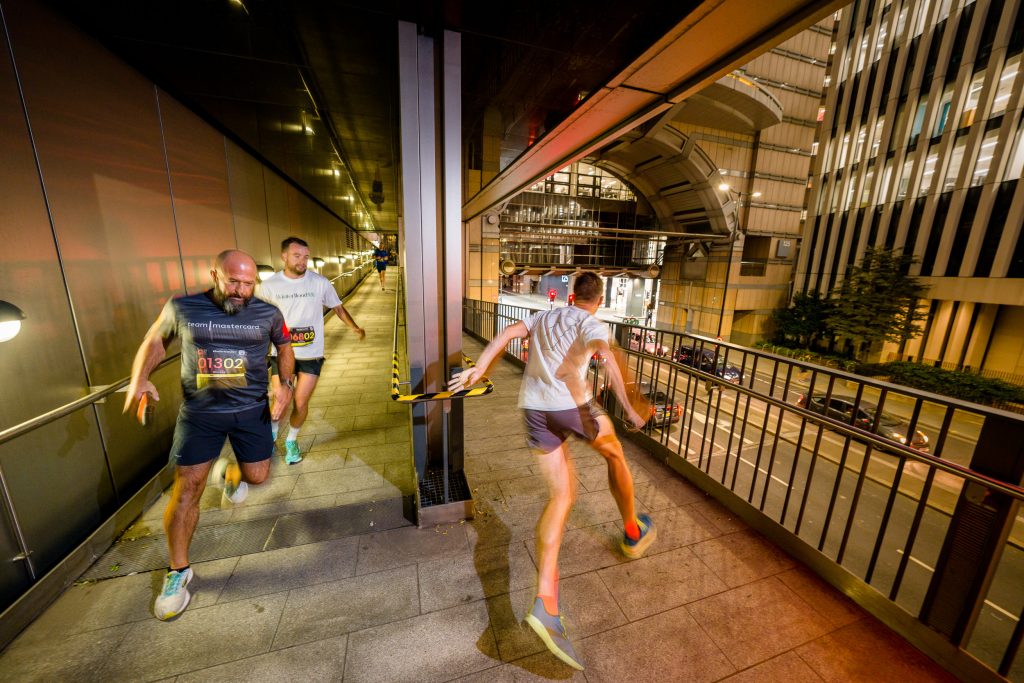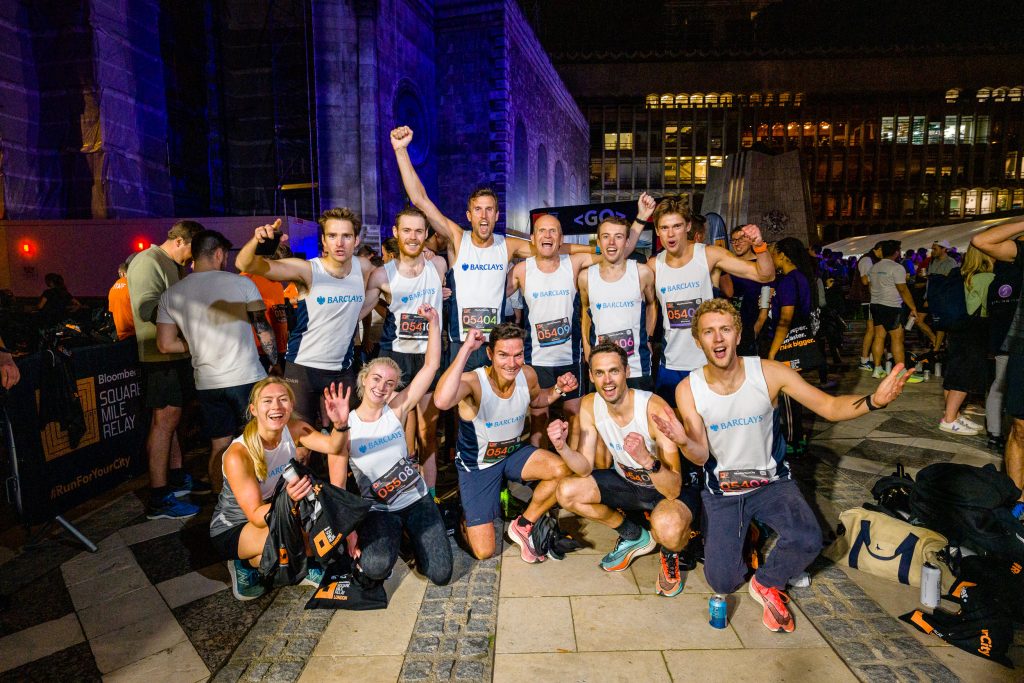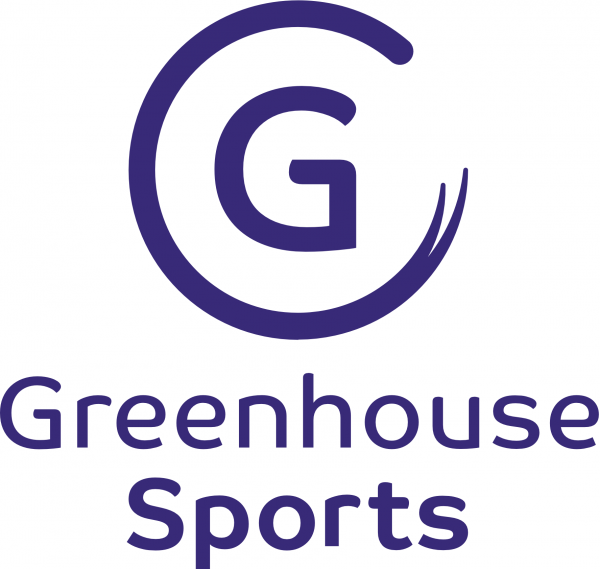 London - The Extra Mile
The Extra Mile helps participants of the Bloomberg Square Mile Relay contribute to their city in a bigger, better way. We are delighted to be working with Greenhouse Sports as The Extra Mile Partner in 2019.
Simply by participating in the race, 25% of your team's race fee will be donated to invest in projects delivered by Greenhouse Sports in London. The best part is, you get to help choose where those funds go by choosing a cause you care about, and running for it. When you complete your personal profile on our website you will choose one of three causes to run for, from Inclusion, Education or Empowering Women & Girls. Then, on race night, your lap in the Bloomberg Square Mile Relay won't just be for your team, but for your Extra Mile cause too.
The cause with the quickest average time will win a minimum donation of US$20,000. Funds will be used to address the winning cause across a year-long project. Find out more about Greenhouse Sports and the causes you can choose here.